We offer a variety of eco hosting packages on green energy powered servers. Located in European data centers in accordance with the strict European data protection regulations.
Our Finish data center partner uses wind and hydropower for all of its energy uses. Our German data center partner uses green energy from 100 percent carbon dioxide-free and environmentally-friendly hydropower.
The origin of this electricity is certified with Guarantees of Origin (GoO) in accordance with the RES-E Directive. The guarantees of origin have been granted in accordance with the EECS (European Energy Certificate System) standard. Oomi Oy acquires a corresponding amount of electricity certified with a guarantee of origin, which is verified by an auditor each year.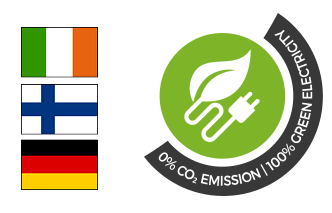 ---
Shared Hosting
Shared hosting is where you share the resources of the server with some of our other customers. If your site becomes busier we can increase your disk space and or bandwidth. Or you can switch to a VPS when needed.
10 GB Disk space
1 Database
WordPress or other CMS pre installed
Fee SSL cert by Let's Encrypt, a free, automated, and open certificate authority brought to you by the nonprofit Internet Security Research Group (ISRG)
2 Email address
---
Managed Virtual Private Servers
This is a fully managed service so you don't need any knowledge of web server software.
NVMe SSDs
10 Gbit network connection
Automatic daily backups
DDoS protection
Fee SSL cert by Let's Encrypt
20 TB of traffic But if you need, you may add more for an extra € 1.23 a month per TB.
Professional Virtual Private Servers have their own dedicated CPU resources
and are ideal for CPU intensive applications like highly frequented web servers, video encoding, machine learning or research calculations.
VPS 8GB Pro
2 CPUs
8 GB Ram
60 GB Disk
20 TB Traffic

✨€38 / month✨
VPS 16GB Pro
4 CPUs
16 GB Ram
160 GB Disk
20 TB Traffic

✨€53 / month✨
VPS 32GB Pro
8 CPUs
32 GB Ram
240 GB Disk
20 TB Traffic

✨€88 / month✨
Standard Virtual Private Servers are ideal for individual applications, distributed systems, dynamic clusters or development environments.
VPS2: uses a balanced amount of CPU and RAM based on Intel® Xeon® Gold processors.
VPS4 and VPS8 are optimized for CPU performance based on AMD EPYC 2nd Gen processors.
VPS 2
2 CPUs
2 GB Ram
20 GB Disk
20 TB Traffic

✨€20 / month✨
VPS 4
3 CPUs
4 GB Ram
80 GB Disk
20 TB Traffic

✨€30 / month✨
VPS 8
4 CPUs
8 GB Ram
160 GB Disk
20 TB Traffic

✨€40 / month✨